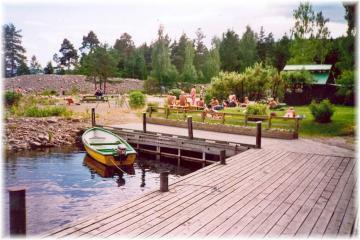 This beach is situated at the outlet of the river Bråstadelva in the lake Mjøsa, about 3 km north of Gjøvik. 
The ground is rented and run by Mjøsområdets Naturistforening [1], MNF. The area is 5000 m2 and has a 120 meter shoreline.
Glomstadbukta probably boosts the finest place for barbecuing in whole Norway. We also have a very nice court for petanque and several tables with fixed benches.
With agreement, it is possible to put up a small tent for a few days against a modest fee. We also have a well equipped cabin with four bunks for rent. The cabin is primarily intended for members of the MNF association, but may also be rented by naturists with an INF membership card. If you want to rent the cabin, please call : +47 611 73892 or +47 611 81707, or use e-mail: vik-mnf (at) online.no 
Sorry to say, we are not able to accommodate caravans or motor homes, neither on the ground nor in the vincinity. However, Glomstadbukta has a modest marina for people arriving by boat.
There is a toilet and dustbins on the beach, but please bring your own drinking water.
How to find Glomstadbukta
From national road 4, turn off direction "Nordenga" about 3 km north of Gjøvik. At the next crossing, take Trondhjemsveien to the left direction Gjøvik.  After about 300 m, take the road Bråstadvika to the left. The road goes downhill, crossing national road 4 on a bridge. When arriving at the public beach, turn half left and continue to the parking lot by the river. Ample space for parking.
Mjøsområdets Naturistforening
Postboks 2108,
2811 Hunndalen, Norway
See also our Home Page. [1]