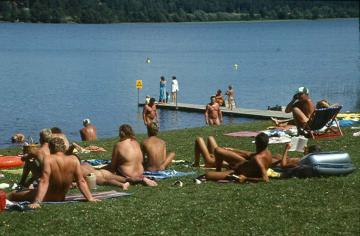 The beach is located at Gustavsberg Naturist Camping at the Nora, lake about 3 km north of Nora.
The nude beach is operated by NF Bergslagens Solsport [1] as official and open to public.
The sand beach is shallow and well suited for children of any age. We have a very large lawn for sunbathing with a magnificent view over the lake. There is a raft moored at a suitable distance from the shore.
We have a rowboat for rent.
There is a car park about 100 m from the beach. There is a playground for the children at some distance from the beach but in connection with the sun lawn. Close to the beach is also our barbecue with tables and benches which can seat more than 50 people.
For more information: Phone +46 73-642 5282
E-mail: nbs [at] naturistforeningen.se (NBS)